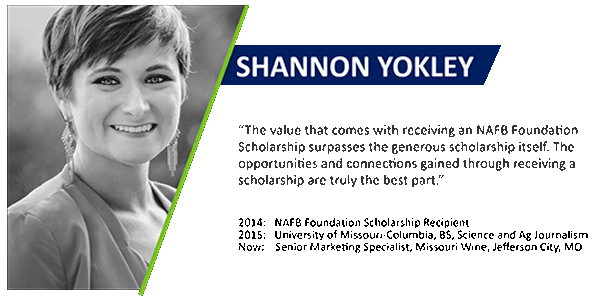 Since 1977, the NAFB Foundation has provided financial support and educational opportunities in the form of college scholarships to assist students in pursuit of careers in agricultural communications. More than $445,750 in scholarships have been awarded.
The NAFB Foundation offers several $7,500 college scholarships annually. This year's recipients will be recognized at NAFB Convention this November in Kansas City, and each receives an expense-paid trip to attend the convention as part of the award.
The application period for 2021 scholarships has closed.
To apply for the 2022 scholarships, applicants must be a college Junior, Senior or Graduate student for the Fall 2022 semester and enrolled in or transferring to an agricultural communications curriculum. Strong consideration will be given to candidates with concentration and/or application in broadcast media (this may include internet/online media distribution).
Please email info@nafb.com for additional information.