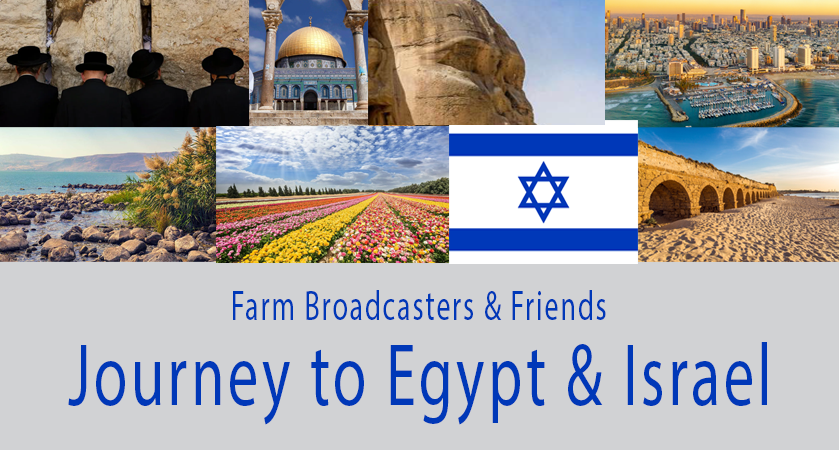 The National Association of Farm Broadcasters Foundation invites you to join us for an international experience touring Egypt and Israel! Our Farm Broadcasters & Friends Journey to Egypt & Israel will take place June 10-25, 2023, with tours of farms, agribusinesses, and interactions with U.S. companies and organizations doing business in both countries. We are planning visits with the Israeli Minister of Agriculture, Ambassador Tom Nides, the Volcani Institute, the Binational Agriculture Research initiative (BARD), and other groups/individuals, too. 
Our tour will be led by former U.S. Secretary of Agriculture Dan Glickman, who served from 1995-2001 during the Clinton administration. Secretary Glickman has great familiarity with Israel, working with multiple companies and organizations during his tenure as secretary and continuing to serve in advisory capacities today.
To view the working itinerary for the trip, click here.
(This PDF is large and will open in a  window...please allow time for it to download. To view the program in an innovative storyboard fortmat, click here.) 
Our agenda is a great balance of business and time for agriculture tours, visits, and observation of the cities and culture of Egypt and Israel. We expect to have up to ten NAFB broadcast members on the journey, and we have room for up to 25 additional participants. Our tour operator, Custom Travel Network (CTN), has a very successful track record of providing excellent experience for travelers (note the quality of accommodations, number of meals included, and the and in-country transportation in the link to the itinerary). We are moving very quickly on this tour due to the need to secure our accommodations and airfare.
Cost of the tour is estimated at $6,500 per person (based on double occupancy) plus airfare.
To join us, you will need a passport valid through March 2024 with at least 4 blank pages. No immunizations are necessary.
The NAFB Foundation sincerely hopes you seriously will consider joining us for this wonderful experience of seeing overseas agriculture and technology firsthand. If you are interested in joining us or have any additional questions, contact CTN at phone 760/688-0127 or click here to complete an online form to begin your travel experience with the NAFB Foundation and CTN!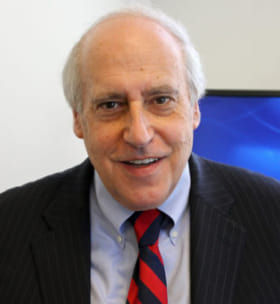 Dan Glickman is a well-recognized leader in the fields of agriculture, nutrition, hunger, bipartisan politics, and public policy following a long career in the federal government, advocacy, and non-profit arenas. 
Glickman is a senior counselor and chair of the International Advisory Board at APCO Worldwide and is a long-time board member and now a lead director of the Chicago Mercantile Exchange (CME Group), senior advisor to the U.S. Global Leadership Coalition, and recent past chairman. He is a distinguished fellow in global food and agriculture at the Chicago Council on Global Affairs and an adjunct professor at Tufts University's Friedman School of Nutrition Science and Policy in Boston. He also serves as a senior fellow at the Bipartisan Policy Center, a D.C-based think tank that fosters bipartisanship, and a strategic advisor and counselor at The Russell Group.
The first-time author has written his memoir, Laughing at Myself: My Education in Congress, on the Farm, and at the Movies, published by the University of Kansas Press.
Glickman has been actively engaged in promoting bipartisanship in the U.S. Congress, retiring as vice president of the Aspen Institute and executive director of its congressional program in early 2021 after 10 years. The program is a public policy education and civility building program for members of the U.S. Congress.
He is a board member of the American Cancer Society Action Network; the domestic anti-hunger group Food Research and Action Center; Issue One, a cross partisan political reform group; World Food Program-USA; and past chairman and now board member of the Foundation for Food and Agriculture Research. He also is a member of the Council on Foreign Relations and the Academy of Motion Picture Arts and Sciences.
Glickman served as the U.S. Secretary of Agriculture from March 1995-January 2001 in the Clinton administration. Before his appointment as Secretary of Agriculture, he served for 18 years in the U.S. House of Representatives for the 4th congressional district of Kansas. While in Congress, he was a member of the House Agriculture Committee; the House Judiciary Committee; chairman of the House Permanent Select Committee on Intelligence; and a leading congressional expert on general aviation policy.
He served as chairman of the Motion Picture Association of America, Inc. (MPAA), from 2004-2010. Prior to joining the MPAA, he was the director of the Harvard Kennedy School Institute of Politics.
Before his election to Congress in 1976, Glickman served as president of the Wichita, Kansas, School Board; was a partner in the law firm of Sargent, Klenda and Glickman; and worked as a trial attorney at the U.S. Securities and Exchange Commission. He received a bachelor 's degree in history from the University of Michigan and a J.D. degree from the George Washington University. In recognition of his service, Glickman has also received an honorary Doctor of Philosophy from Kansas State University and an honorary Doctor of Laws from the George Washington University Law School.