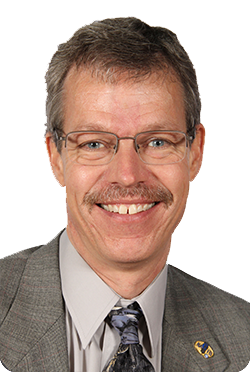 I would like to thank everyone for attending NAFB Convention, and to all of our sponsors that make the convention possible. I hope you found the NAFB convention valuable to your career, and professional development. My goal for convention was to provide something for all three of our Membership Councils. We have had many compliments about the NAFB Exchange this year, and it will continue and even be expanded next year. I especially want to thank the NAFB staff for all of their hard work in helping me organize convention. I believe we have the best staff of any agricultural organization in the country. If you have not already done so, please fill out the convention survey, and if you have any suggestions for next year, please let us know.
I'm very excited for 2016! I feel with our Vision 2020 plan and new research showing the value of Farm Broadcasting has our organization set for an exciting and profitable year! I know Mindy and Lance will be very busy meeting with agencies and agribusiness presenting our exciting research in 2016. I've already begun working with Tony St. James on ways we can keep all of you updated on what the board will be doing this year, and I believe you will find them very informative. My goal as your President this year is to continue to implement and expand our Vision 2020 plan, and continue to expand educational opportunities not only from a broadcasting standpoint but also from a sales standpoint, so be watching your email for upcoming webinars on sales and other educational opportunities. I also want to continue to work on additional improvement and new opportunities with the News Service. I'm pleased Sabrina Hill of Ag Net West has agreed to be the News Service Committee Chair. Sabrina has some great ideas on how we can improve and expand the News Service and if you have any suggestions don't hesitate to contact Sabrina. Our organization is only as valuable as the membership involvement, so if you would like to become involved, please give me a call or drop me an email. The only bad idea is the one that is not offered! If you have any questions or concerns about YOUR organization, contact me anytime at brian@realcountry1430.com or give me a call at 608-343-0138.
I would like to say a special thank you to Janet Adkison, Susan Littlefield, and Bill Holst. Over the last two years, all three have been a huge help in preparing me for the upcoming year as President. Finally, I would like to say thank you to all of you for electing me as your President. It is a tremendous honor and privileged to serve you. 
May you and your family have a very Merry Christmas and a Happy and profitable 2016!
Brian Winnekins