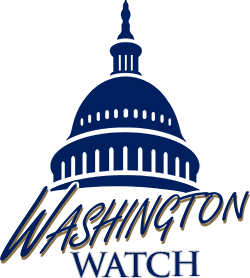 Washington Watch 2017
May 1-3, Holiday Inn Capitol
​Washington Watch is held each spring in our nation's capitol and gives members the opportunity to hear from agriculture organizations, officials from the United States Department of Agriculture and leadership of the House and Senate.
Click any of the links above each section for more information.
With a new administration in Washington, the schedule for this year's event is very fluid and will change, even as Washington Watch takes place. As you make appointments with lawmakers and their staff, please be respectful of the schedule as we work to maximize the number of participants with our speakers and guests. Congressional visits should be scheduled for Wednesday afternoon and Thursday morning. While it is always a difficult to gage the interest of the White House meeting with NAFB members, keeping your schedule open for the entire Washington Watch program is recommended.
Click here to download the full 2017 Washington Watch Program
Twenty different organizations will be available to discuss the latest issues affecting agriculture!
Click here for a list of Washington Watch 2017 attendees.
Registration
Washington Watch kicks-off with a member meeting at 2 p.m., Monday, May 1 and wraps up around 12 p.m. Wednesday, May 3. If you are departing Wednesday, we recommend book flights leaving after 2 p.m. Wednesday. To maximize your time in Washington, please schedule Congressional visits on Wednesday afternoon and Thursday. Registration for Washington Watch 2017 is now closed. Please contact the NAFB office.
Hotel Rooms
The room block and subsidized room rate from NAFB ended on March 31.
Contact the NAFB office to be placed on a waiting list for the discounted room rate.