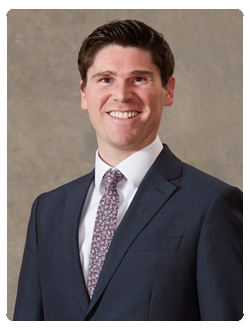 Paul Murphy-Spooner
United Soybean Board / U.S. Soybean Export Council
pmurphyspooner@unitedsoybean.org
(636) 681-1254
Years Experience:  10
Board Experience:  In Professional Career:
• Public Relations Society of America (PRSA) St. Louis Chapter, served as President, President-Elect, Secretary, Communications Director, Blog Editor
• Volunteer for DOORWAYS St. Louis, Food Outreach, St. Patrick Center, 100 Neediest Cases
At The University of Iowa:
• Public Relations Student Society of America (PRSSA), served as President, Firm Director
• Intersection Acappella Group, served as Events Manager
• Ponseti Races, served as Operations Director
Bio:  As a proud advocate for the National Association of Farm Broadcasters throughout my career, spanning agency and trade associations, it'd truly be an honor to serve as the Allied Industry Council representative on the NAFB Board of Directors. Whether it's attending the NAFB Trade Talk or ensuring the NAFB News Service is part of our public relations strategy, I've always stressed the importance of reaching our farmers through radio. From Susan Littlefield and Julie Harker to Max Armstrong and Chuck Zimmerman, I have an incredible respect for these farm broadcasters and the news coverage they bring to the agriculture industry. These dedicated individuals live and breathe the work they do with a passion that energizes our farmers to keep going year after year. I feel that my expertise in roles across the food supply chain, working directly with the farmer and the consumer, and also my journalism background at the University of Iowa, will bring valuable perspective to the NAFB Board. I look forward to the potential of representing United Soybean Board & the U.S. Soybean Export Council as part of this accomplished group of industry professionals.
Paul Murphy-Spooner Bio
United Soybean Board & U.S. Soybean Export Council
Director of Public Relations and Issues Management
Paul Murphy-Spooner directs public relations strategy, issues/crisis management, executive thought leadership and communications compliance for United Soybean Board and the U.S. Soybean Export Council.
He previously served as senior manager of media and communications for U.S. Farmers and Ranchers Alliance, where he led media relations and member relations activities, managed the Farmer Ambassador program and secured speaking opportunities at top-tier events including SXSW, Food Tank Summit and Future Food Tech. Murphy-Spooner also served as senior account executive at FleishmanHillard on the consumer marketing and global entertainment team, owning media and content strategy for Fossil Group, Steak 'n Shake, Boston Market and Sleep Number, garnering placements with CNBC, MSNBC, Huffington Post, Men's Journal and Access Hollywood Live. Additionally, he served as public relations supervisor at Osborn Barr overseeing communications strategy and implementation for various trade associations and agribusiness companies, including Asgrow/DEKALB, Propane Education and Research Council and Farmers Business Network.
While at USFRA, Murphy-Spooner was integral in the "30 Harvests" docudrama that received National Agri-Marketing Association (NAMA) 2019 Best in Show in the consumer category and Grand Champion, and an honorary mention at the 24th Annual Webby Awards. At Osborn Barr, he spearheaded public relations strategy for the America's Farmers Food Drive that received NAMA 2012 national finalist.
He formerly served as President of the Public Relations Society of America (PRSA) St. Louis Chapter, where he organized the inaugural ImPRessions Awards. Murphy-Spooner is an alumnus of The University of Iowa with Bachelor of Arts degrees in both Journalism and Communication Studies.