During the Washington Watch (April 27), The Doan award, honoring excellence in reporting agriculture, was awarded to Michelle Rook, managing farm director at WNAX (Yankton, SD). This is the inaugural year for The Doan. Presented by the NAFB Foundation, through a gift from Agri-Pulse Communications, Inc., The Doan is named after Stewart Doan, a farm broadcaster and senior editor at Agri-Pulse, who passed away suddenly in May 2012. He was known for his passion for politics and determination for delivering breaking farm and rural policy news. Doan's reporting on issues affecting farmers and consumers is missed by the entire agriculture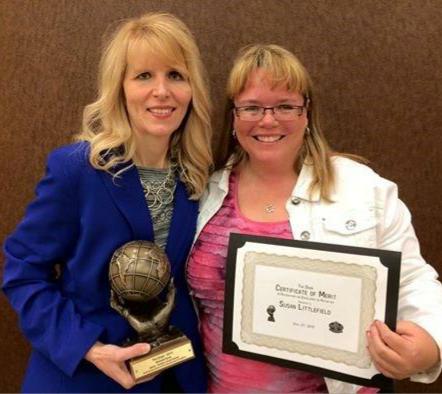 community. He served as NAFB president in 1998. 
Michelle Rook was presented The Doan from Senator Pat Roberts, Ken Root, NAFB Foundation, and Sara Wyant, Agri-Pulse, join in congratulating her. Michelle's winning entry titled "Rail Crisis Costs Northwestern Corn Belt Farmers" outlines the crisis, the cost and some solutions – along with the railroads' response. The U.S. agricultural industry was crippled last year during ongoing railcar shortages, due to the oil boom in western North Dakota and other factors. This series helped listeners understand the facts surrounding the railcar shortage and serves as a call to action to reach out to lawmakers and the railroads. Also, judges awarded a Certificate of Merit to Susan Littlefield, farm director at KZEN, Columbus, NE, for her entry titled "Behind the Chutes," a special report on the rodeo cowboy.        
Washington Watch Recap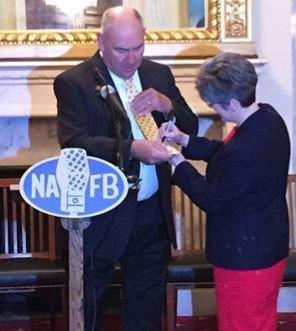 As Ken Root, left, introduced Senator Joni Ernst (R-Iowa) at an NAFB Washington Watch event, he asked her to autograph his "pig tie."  Look for this unique tie in the NAFB Foundation Auction in November.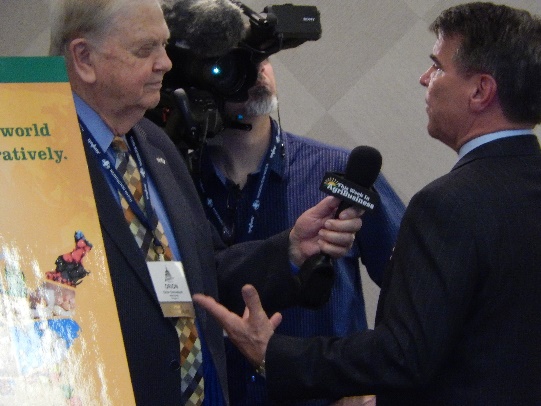 Orion Samuelson, host of This Week in Agribusiness, interviews Chuck Connor, CEO, National Council for Farmer Cooperatives at Washington Watch.
After an active day, Washington Watch participants enjoy a skyline view of the Capitol.