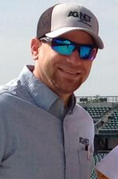 The newest addition to the AgNet West (Fresno, CA) team is Taylor Hillman, who is Assistant Farm News Director. Hillman is a news professional from Clovis, CA, where he was an award-winning technical director and assignment manager for the area CBS affiliate. He earned a Best Newscast award from the NorCal Radio and Television News Directors Association and received an AP Best Newscast award.  Hillman was raised in the state's agriculture-rich Central Valley, where his grandfather was a cotton and alfalfa.  Hillman is an active member of the Old Town Clovis Kiwanis and helps  plan several major community events each year. As Assistant Farm News Director, Taylor actively reports on California's diverse agriculture. "His strong professional broadcast news background and family tradition of farming fits right in line with AgNet West's mission to provide professionally presented agriculture news to California's farmers from people who are invested in California agriculture," said Sabrina Hill, AgNet West Farm News Director.  He joins Sabrina and network owners Robin Loftin, Marketing Director, and Gary Cooper, General Manager.
Sabrina first joined AgNet West shortly after its inception in 2012 and was promoted to Farm News Director. Like Hillman, she has a strong broadcast news background and family farming history. She started out two decades ago as the agriculture and education reporter for a daily Central Valley newspaper and a short time later was hired as a news producer and reporter for an all-news radio station in Fresno, CA.  Since that time, Sabrina expanded into television as well. She hosted a local television show and was an award-winning news producer for the area's CBS affiliate. In addition to receiving a Best Newscast award from the Radio and Television News Directors Association, she has been published in newspapers, magazines, and college textbooks.  She has family roots in cattle ranching and is a member of the California Cattlewomen Association.  Also, Sabrina is a member of California Women for Agriculture and serves on the Fresno Farm Grown Council as well.
Robin Loftin and Gary Cooper come from farming family backgrounds, too. They own and operate AgNet Media, Inc., a diversified farm media company originally founded by Gary in Florida 30 years ago. Born in Oxnard, CA, Robin and her family moved to Oklahoma after her early childhood, where they owned a family cattle operation, and she excelled in the local 4-H cattle program. Robin joined Gary and the company in 1989 after several years in cattle industry public relations in the Kerr Foundation's Brucellosis Eradication Program. Gary and Robin's media enterprise has since grown to involve localized farm radio networks in Florida, Georgia, Alabama and California; Citrus Industry and Pest Pro magazines; and Citrus Expo, a seminar/trade show event for growers held annually in August in Fort Myers, FL, now in it's 23rd year. AgNet West Radio Network affiliate stations have combined signals that reach more than 95 percent of California's agriculture production. All affiliates have aired all four daily network programs since the network went on-air in 2012, with some program clearances in both morning and mid-day parts. In addition to six daily vignettes, AgNet West produces Farm City Newsday, an hour-long agriculture news/talk/feature show that currently airs in two markets with plans to expand.