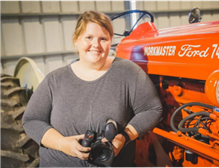 Growing up, Kelsey Litchfield would visit her grandparents in Rio, Illinois, and always wanted to farm.
"Many of the people who live there [Rio, Illinois] are farmers or are involved with the ag industry in one way or the other," Litchfield said.
In high school, Litchfield was involved with 4-H and FFA as well as in turfgrass management, the family business.
"My father owns and operates a commercial lawn care and snow plowing business," she said.
After visiting the University of Illinois Urbana-Champaign, Litchfield no longer wanted to talk about the weather, but instead agriculture, switching from meteorology to agricultural communications.
"My dad was right, I do have the gift of gab, so I decided to go the broadcast journalism route. Communications can take you a lot of places," she added.
Throughout college, Litchfield held internships with Illinois Farm Bureau, RFD Radio, and National FFA. After graduation, her path would lead her into a communications office where Farm Broadcaster Colleen Callahan also happened to be. Colleen Callahan Consultancy then hired Litchfield for social media management.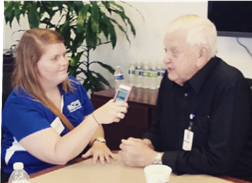 "We've evolved the consulting business, whether it's helping on the communication side or the production side," Litchfield stated.
With her podcasting and radio background, collaborating with companies and organizations, connecting people, and developing strategic ideas and partnerships came naturally to Litchfield.
After taking an appointment to lead the Department of Natural Resources, Callahan asked Litchfield to "step in and step up to help lead her consulting business."
"We do a lot of trainings where we teach people how to interact with media. We're navigating with businesses to bring them both strategy and expertise to achieve communication, leadership, and business goals," Litchfield explained.