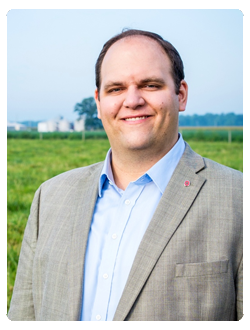 Andy Vance
Farm Progress
andy.vance@farmprogress.com
(614) 914-8735
Years of Experience:  20
Board Experience: 
president, Ohio State University College of Food, Agricultural, and Environmental Sciences Alumni Society Board of Directors (previously treasurer)
vice president, Friends of the Bexley Public Library Board of Directors (also chair of the bylaws committee)
chair of the nominating committee, Buckeye Samoyed Club
National AgriMarketing Association (NAMA)
Ohio Cattlemen's Association
Ohio FFA Foundation
Bio:  NAFB has been an important part of my adult life. Being recognized as a recipient of the Horizon Award let me know I was on the right professional path as a young broadcaster; I also am incredibly proud of the awards from our association recognizing the quality of our news and market coverage. Most importantly, though, I am thankful for the friends and mentors I've met through this incredible organization.
After spending nearly a decade in radio at WRFD-AM, the Buckeye Ag Radio Network, and the Agri Broadcast Network, today I put my journalistic talents to use via three Farm Progress podcasts including Feedstuffs In Focus, Feedstuffs Precision Pork, and Food Chain Chats. I also am co-host of the Feedstuffs 365 live stream channel, where I host multiple interviews with feed and livestock industry leaders and newsmakers each week. Additionally, I co-anchor a weekly agriculture television segment on Spectrum News 1 in Columbus, Ohio.
With 20 years of radio, television, and digital broadcast experience under my belt, I have a deep understanding of our industry and a great passion for our professional organization. It would be an honor and privilege to "pay it forward" through service on the NAFB board.