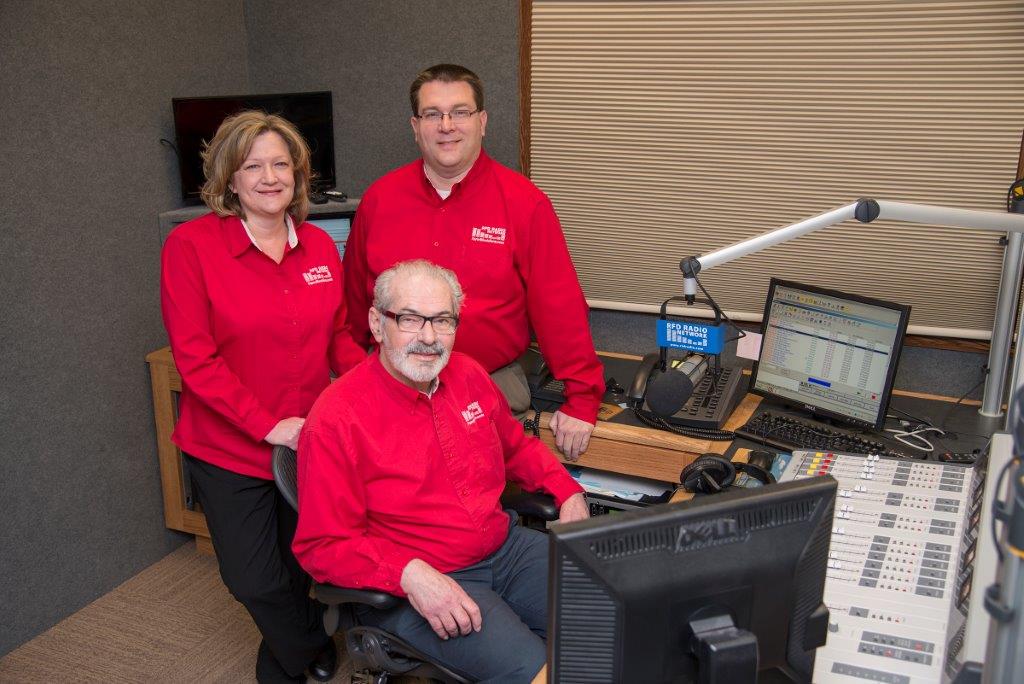 "Titles have changed this past year for the three of us that make up the RFD Radio Team," reports Rita Frazer (RFD Radio Network®, Bloomington, IL). "In January, I became the Director of Network and Audio Services as Alan Jarand (seated) transitioned from Director to Part-time Audio Specialist. We feel very lucky to have Alan remain on the team with his golden voice, wisdom and institutional knowledge." She added, "Kansas native DeLoss Jahnke joined our team in March of this year. It has only been a few months since he joined us here in Bloomington, but it feels like we have worked together forever. DeLoss and I have so much in common, including a love for farmers, agriculture, a passion for farm broadcasters and NAFB. Sharing a vision to serve Illinois Farm Bureau membership and all of Illinois Agriculture makes us a powerful duo." A voice well-known across Illinois, Rita Frazer, as RFDRN Director of Network and Audio Services, she will oversee all RFDRN operations, including programming and affiliate relations for the network and FarmWeekNow.com/RFDRN digital platforms that include its mobile app, daily e-newsletter, and website. With more than two decades of experience, Frazer joined the network full-time in 2011 after serving as farm director for WSMI-AM/FM in Litchfield, and helping produce RFDRN's daily RFD Illinois morning program and RFD Livestock Report.
"January 2015 marked my 25th year as Farm Broadcaster and voting member of NAFB," Rita said. "I feel blessed to have the honor of serving farmers and agriculture and I'm grateful every day to have a job that I love. I grew up on a small diversified farm in Jersey County, IL. I always had an interest in the farm and agriculture and discovered the field of farm broadcasting while I was a radio broadcast student." She continued, "I went to work for WSMI (Litchfield, IL), in 1990 and there worked for an audience that allowed me to learn and grow while I talked to them every morning. I was so lucky that the late Hayward Talley took a chance and hired me to be his Farm Director on a 50,000 watt FM Radio Station. I worked hard and at the end of my 22nd year with Talley Broadcasting I accepted a position here at the RFD Radio Network. I know hard work has paid off, but along the way it hasn't felt much like work because we are all a part of this agriculture industry we all call home." 
Veteran farm broadcaster DeLoss Jahnke joined the network as Network Anchor and Editor. His experience includes service as agribusiness director with WMBD-AM/FM and WIRL-AM/FM in Peoria, communications specialist with the National FFA Organization and as a farm broadcaster with the Brownfield and Kansas Agriculture Networks. WMBD/WIRL now broadcasts RFDRN's Illinois-focused farm and rural issues programming. Jahnke grew up on a grain and livestock farm and holds a master's degree in business administration from Butler University and a B.S. in agricultural journalism from Kansas State University.
Alan Jarand, a three-decade veteran farm broadcaster with RFDRN, will serve the network part-time as he transitions to retirement. Jarand helped build RFDRN from a handful of affiliates and programs to more than 80 stations and more than 20 long- and short-form programs broadcast Monday thru Saturday. Jarand continues to help produce and serve as lead host of the network's hour-long "RFD Today" talk show and provide content for other network programs and digital platforms. Illinois Farm Bureau started RFDRN more than 40 years ago as a service to Illinois farmers and rural Illinoisans.