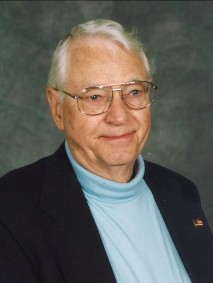 Keith Kirkpatrick, who at 92 still broadcasts a weekly program on WHO (Des Moines, IA), marks his 65th year as an NAFB member this year. He attended his first NAFB convention in Chicago in 1952. His first of many committee assignments was Resolutions. Keith was chosen as Farm Broadcaster of the Year in 1971 and was elected NAFB President in 1968. He was inducted into the NAFB Hall of Fame in 2003. For many years, he was a member of the NAFB Sales and Marketing Board, and he served as vice president of the NAFB Foundation for several years. He is a Lifetime Broadcast Council member. Mr. & Mrs. Merle J. Kirkpatrick lived on an Iowa farm near Washta in northwest Iowa when Keith was born in 1925. That's where he and his two younger brothers grew up. Keith was 12 when the family left the farm. After one term at Sheldon Junior College, he worked in a south San Francisco Packing Plant, on a California dairy farm and a prune ranch before joining the Army Infantry. Soldier Keith served 18 months in the Philippines and then returned to Sheldon Junior College. That's where he met his wife, Arby. They were married in 1950.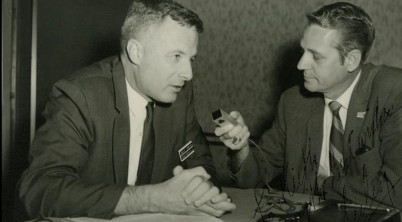 Keith Kirkpatrick, right, conducts an interview in his early radio years. Keith's first radio job was as a newsman at WSUI (Iowa City, IA), when he transferred to the University of Iowa. Graduating mid-year 1951 with a radio journalism degree, Keith landed as Herb Plambeck's assistant at WHO (Des Moines, IA). Television dominated Keith's life from 1954 to 1957. The experience convinced him that radio was the way to go. Keith led WHO's long-time participation in Conservation Field Days, county, state and national plowing matches and many Com Belt Field Days. Personnel changed many times in the WHO farm department, but Keith and Lee Kline, who came aboard in '54, were always in the picture. In 1970, Herb Plambeck resigned to be assistant to Secretary of Agriculture Cliff Hardin and Keith was appointed WHO farm director. Keith earned the NAFB Oscar in Agriculture in 1971. His hobbies have included hunting and fishing since boyhood. He is an honored outdoor writer. For many years, he has hosted the Sportsman's Notebook on WHO. With his hunting buddy, Don Muhm, he published the book, Iowans Outdoors. When Keith retired as WHO farm director at the end of 1990, his friends and associates presented him with a Browning Over-Under shotgun. Today, Keith continues to host Sportsman's Notebook, a Sunday morning program that airs from 8:05 to 8:30 a.m. on WHO Radio. He's arranging a late September trip to Minnesota's Lake of the Woods for his listeners. Keith notes that "71 people have signed up for a bus that has 75 seats." He admits, "My outdoor show is kind of fun!"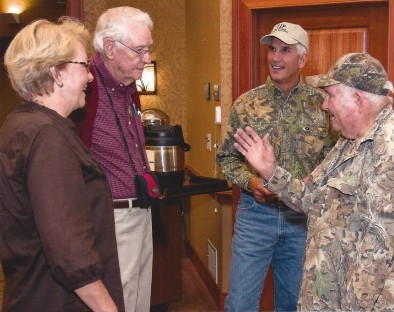 Carmen Darland, Keith's daughter, and Keith talk with two of his hunting buddies.