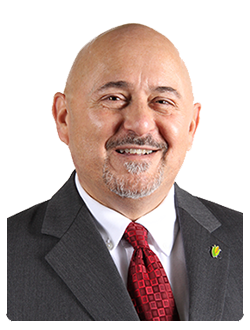 Mark Lambert
National Corn Growers Association
lambert@ncga.com
(636) 733-9004
Years of Experience:  40
Board Experience:  I have 28 years of not-for-profit board experience, 21 with the Illinois Corn Growers Association/Illinois Corn Marketing Board and 7 years with the National Corn Growers Association. I have volunteered my time to several agricultural scholarship selection committees, FFA, fair boards, and charities like Special Olympics and St. Jude.
Bio:  I have worked closely with farm broadcasters for nearly three decades and have a special appreciation for the role and many contributions of farm radio to growers and the consumers they serve. Telling the important story of the nation's food producers in a clear and meaningful way is a critical mission today. I would like to do my part to assure a strong Farm Broadcast industry in the future.
Mark Lambert is Senior Communications Manager for the National Corn Growers Association. In this position he is responsible for media and public relations and a broad spectrum of video, social media, advertising and marketing support projects. Prior to the move to NCGA he served as Communications Director for the Illinois Corn Growers Association and the Illinois Corn Marketing Board for 21 years, wrote a business column for the Peoria Journal Star for a decade and was part of the team to launch Illinois AgriNews. In total he has spent nearly four decades in communications and journalism telling the story of agriculture and helping family farmers find a public and personal voice. He has written numerous print and digital articles for news agencies, trade publications, magazines, and online outlets regarding corn's contributions to the general economy, rural America, national security and the environment. Those efforts have been recognized by the National Conservation Society of America, The National Agricultural Marketing Association, Agricultural Relations Council, National Association of Farm Broadcasters and the Smithsonian Institution.