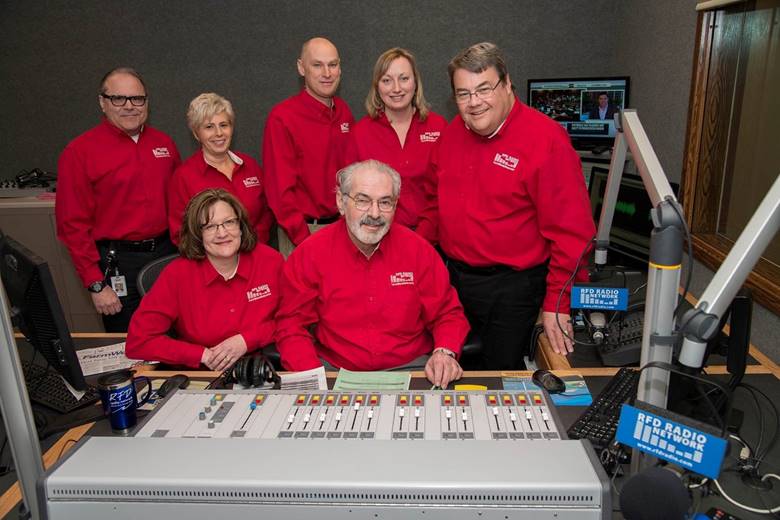 Unplugging his microphone for full-time retirement, Alan Jarand is moving from Illinois to New Orleans to be near family and to engage in fixing up their newly acquired home in the Historic District. He is surrounded by his RFD Radio Network (Bloomington, IL) colleagues, who wish him well. At left of Alan is Rita Frazer and on second row (left to right) Michael Orso, Cebrina Hardy, Jim Taylor, Mary Kobbeman, and John Hawkins. 
Mary said, "I just produced my last RFD show for Alan Jarand, which he hosted for 37 years. He hired me five years ago as producer for the Radio Network. Since then, I have been lucky to call him boss, and friend. No one is more easy going, genuine or has a better voice. I will miss you and hope you have a long happy retirement." 
Alan responded, "After 37 years with Illinois Farm Bureau's RFD Radio Network, I retired from full-time work in the spring of 2015, but continued on a part-time basis, hosting our mid-morning talk show RFD Today. But with my daughter finishing college and planning to start her career in New Orleans, where our son and grandchildren are already established, the call of warm weather could no longer be avoided. So, in mid-February we bought a house in NOLA, packed up all our stuff into a moving pod and are heading south from Illinois. At this point, I was closing in on 39 years at RFD radio. As I told everyone at the end, it was the quickest 39 years of my life."