On January 1, Lorrie Boyer returned as Farm Director and Morning Show host to Farm Radio 1010 KSIR (Fort Morgan, CO).  Lorrie may be "new" to her "old" position, but she is no stranger to radio and farm broadcasting. She started her career in 1998 at KLMR (Lamar, CO), and she spent four years there serving as Farm Director and mid-day radio show hos t for the country music station. Also, she learned sports programming, created and managed the internship program, was talent for numerous live remotes, served as backup news director and participated on the daily "Anything Goes" newsmaker show. In 2001, Lorrie went to work for KVAY (Lamar, CO) where she created the Ag News Department. It was the first time that the station had a dedicated Farm News Director and the first time that air-time was dedicated to agriculture interviews and market updates. Also, she hosted a weekly, hour-long talk show and was an on-air personality for the mid-morning show. Lorrie developed and managed an internship program, hosted live remotes and spent many hours producing ads. After five years at KVAY, Lorrie founded the Colorado Agriculture News Network. She ran all aspects of the network for six years and had up to 21 network stations. She has since sold the network.
She joined the KSIR team in 2006 as the station's Farm Director/Program Director and Morning Show host. After six years with KSIR, she left the industry to teach work and life skills for Morgan County Social Services clients, but now she is back and energized with a whole new perspective on how she can better serve as the KSIR Farm Director and Morning Show host. KSIR is a 25,000 watt station and is Colorado's only ag station. In addition to locally produced news, markets and ag industry interviews, KSIR also carries Agri-Talk, Trent Loos, Howard Hale, BARN Media, Successful Farming Radio Magazine and reports to complement the solid ag programming. Lorrie runs the KSIR morning show daily from 6:00 a.m. to 9:00 a.m.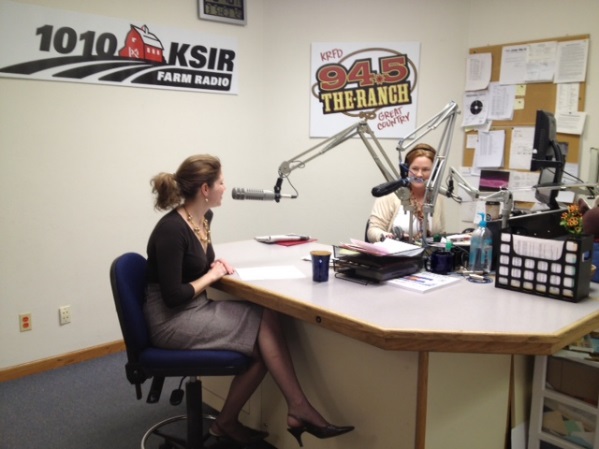 She assists with keeping the website current and social media platforms up-to-date and does live remotes from a locallivestock sale barn and equipment auction barn, among other daily duties. She brings a passion for agriculture, having grown up in Longmont, CO, where her dad is a horse breeder and trainer. She has won numerous awards, including Media Professional of the Year from the Rocky Mountain Farmers Union, Friend of Agriculture from the Colorado Conservation District Association, Colorado Corn Growers Association and the Colorado CSU Extension Association and has won Best Market Broadcast from NAFB. She now lives in Brush, CO, with her husband, Brian, and two boys, Brodie, 11, and Blake, 15. She is a Red Belt in Tae Kwon Do and hopes to become a Black Belt in the next few months. A hospice volunteer, she also serves on the Morgan County 4-H Foundation and is a member of the Colorado Farm Show Marketing Committee.