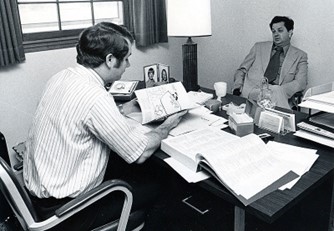 One of the oldest agricultural news radio networks in the country is celebrating half a century in the business of broadcasting.
Cyndi Young, director of Brownfield and Learfield Ag, said it all started with an idea from a master's thesis.
"Clyde Lear was working in the newsroom at a radio station in Jefferson City, Missouri, in the early 1970s," Young said. "Derry Brownfield was the farm director there, doing market and news programming. Clyde had done his master's thesis on the creation of a radio network, delivering ag programming across the state of Missouri."
The two teamed up, along with four angel investors, and began delivering programming to nine radio stations in Missouri in January of 1973. By the end of that year, Brownfield and Lear had managed to get their programming into approximately 30 radio stations around Missouri.
Fast forward to 2023, and Brownfield Ag has more than 600 radio station affiliates in the Midwest carrying their programming.
"Brownfield's founders established a culture of caring and respect, and we know the importance of honesty, fairness, and integrity," Young said. "That's the kind of relationship Clyde and Derry had with the radio stations back then. We want to have that kind of relationship today with our advertising partners, our radio station partners, Brownfield employees, and our listening audience."
Over the years, Brownfield has expanded to other platforms, but they have managed to stay true to their roots.
"Our foundation is local radio, community, and agriculture," Young said. "Our job as farm broadcasters is to create relevant, timely content and information for our listening audience."
While the network has a background in local radio, they are not afraid to break out into other markets.
"When I started at Brownfield 25 years ago, we were a radio network, and websites were a new thing," Young said. "And now, not only do we do all of the radio programs, but we also create content for the website, social media, our newsletters, and video content for Brownfield TV."
The future looks bright for Brownfield Ag, and the network cannot wait to see what the next 50 years holds.