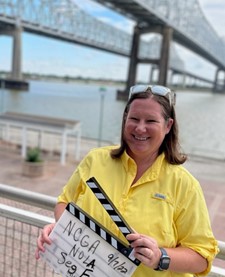 Julie Busse began her work at the National Corn Growers Association (NCGA) in 2018 and recently accepted a new position within the organization as the director of renewable fuels in December 2022.
"It felt like a growth opportunity to learn more about ethanol," Busse stated.
Busse originally is from Fairview, Illinois, and now is located at the NCGA office in Chesterfield, Missouri. She is the lead staff member for the Ethanol Action Team (ETHAT), which includes corn growers from around the United States who help define policy priorities. The team chooses and organizes priorities related to ethanol policy and programming.
Additionally, Busse focuses on the fuel pump infrastructure program and various communications campaigns for Washington, D.C.
As a former farm broadcaster and NAFB Horizon Award winner, this position has allowed Busse to enjoy being on "the other side of the microphone."
Additionally, Bryan Goodman is the current policy communications director for NCGA. Goodman began in this role in July 2021 and is responsible for the media relations that Busse oversaw as part of her previous position.
"My priority is making sure farmers are represented in the news media," Goodman said. He works with multiple types of media and helps support NCGA lobbyists.
"Making sure lobbyists have handouts they need and making sure they get the proper media coverage is important," Goodman added.
Goodman was born in Helena-West Helena, Arkansas, but claims Little Rock, as home. Originally helping a legislator from Arkansas, he moved to Washington, D.C., where he has stayed for more than twenty years. Busse and Goodman have primarily separate responsibilities within NCGA but collaborate on areas regarding ethanol policy.
"Julie is fabulous; we work really well together," Goodman stated.