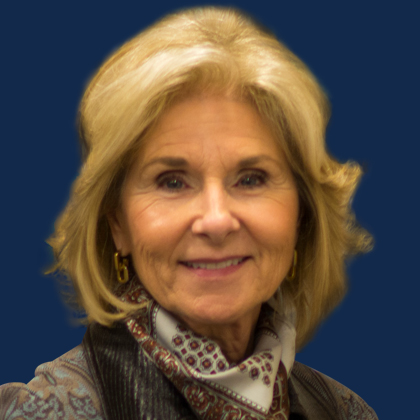 2002 NAFB President COLLEEN CALLAHAN BURNS was one of three Distinguished Service Award recipients honored by the University of Illinois at the 2017 Commencement activities in May. Bestowed upon alumni, faculty, staff and friends by the UI Alumni Association on behalf of the University, the award is presented to individuals or couples whose consistent, exceptional and meritorious service to the University of Illinois (U of I) has made a significant impact on the institution's overall welfare and the advancement of its mission. An agricultural broadcasting trailblazer, Colleen was the first female agribusiness director for WMBD Radio and TV (Peoria, IL), the first female president of the National Association of Farm Broadcasting (2002), and the first woman inducted into the NAFB Hall of Fame (2011). Following her distinguished 30-year career with WMBD, Burns launched her own communications firm, Colleen Callahan Communications, in 2003.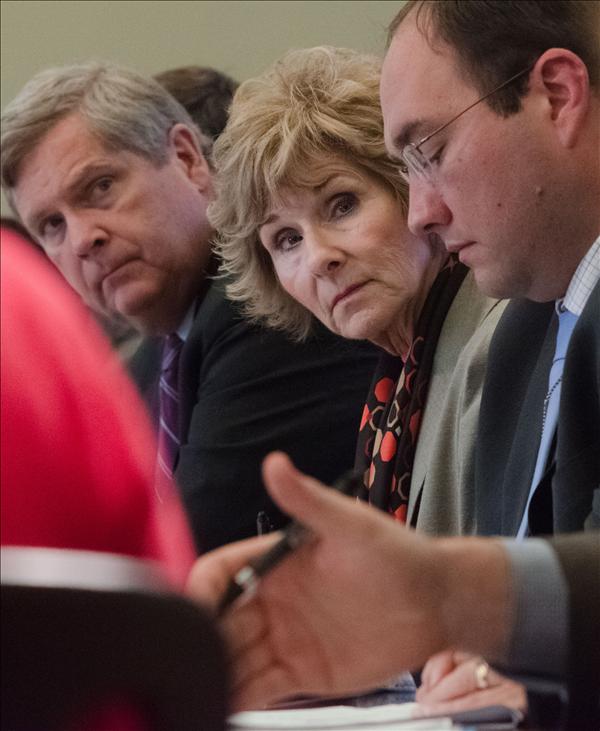 Six years later, the Obama Administration appointed her state director for USDA Rural Development in Illinois. She began her duties in July 2009 and oversaw the agency's 13 offices. Her focus on staff development led to communication training for rural development staff in Illinois, before expanding to other states and the Washington, DC office. In September 2012, Secretary of Agriculture Tom Vilsack named her the Federal Disaster Recovery Coordinator for Drought, leading the national recovery efforts for the Drought of 2012. 
Through the years, she has been an active supporter of the University of Illinois, helping to drive the Ag Communications Alumni Leadership Council and serving in leadership positions with the College of Agriculture Consumer and Environmental Sciences (ACES) Alumni Association, the Fighting Illini Pork Club and the University of Illinois Alumni Association. Other accomplishments include the expansion of the annual Salute to Agriculture Day and the creation of the Dr. Jim Evans Endowed Chair position in the Colleges of ACES and Media. In 2014, Colleen and her family, which includes her husband, Richard ('73 ACES), and daughter, Brittney ('03 ACES) were presented with Honorary Membership into the University of Illinois Varsity "I" Association in recognition of outstanding service. In 2017, she founded Colleen Callahan Consultancy.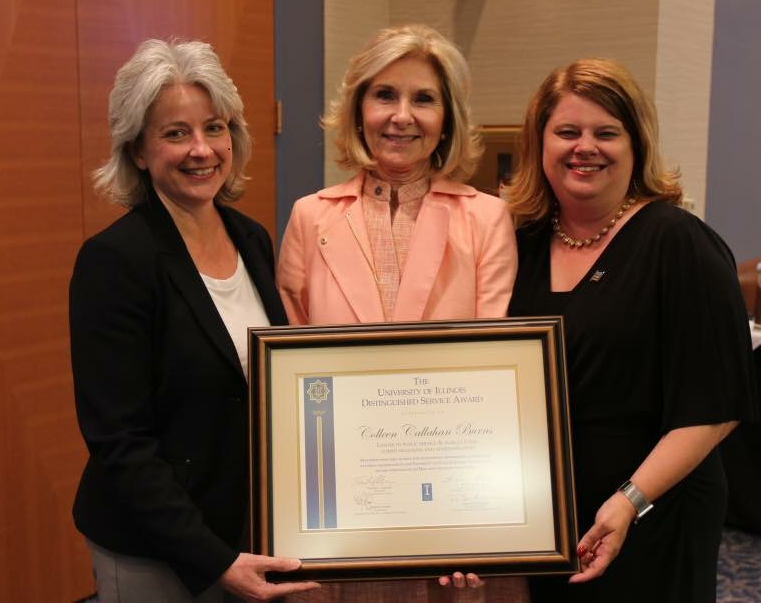 DISTINGUISHED SERVICE AWARD PRESENTED BY UNIVERSITY OF ILLINOIS
Kim Kidwell, Dean, University of Illinois College of Agriculture Consumer & Environmental Sciences (ACES) (left), Colleen Callahan (center), and Tina Veal, Alumni Relations, College of ACES (right). 
ABOUT HER HONOR – Colleen said, "This recognition is special because I didn't anticipate it. It's not one I applied for. Rather, someone believed this honor would be appropriate and nominated me. To be part of the momentous weekend when 13,000 graduates celebrated their accomplishments at one of the most highly respected universities in the nation was a real bonus. Being part of the graduation festivities was like getting permission to go back in time, but while the graduates were looking forward, I was reflecting – knowing that after they turned their tassels, their real education would begin." She continued, "I thought about them leaving the classrooms to the rooms of everyday life – knowing that's where the value and benefit of their U of I education would begin. And, I thought about the old African proverb, 'We stand tall, because we stand on the shoulders of those who came before us.'" She explains, "I stand on the shoulders of my Dad who led the initiative to get lights for our Milford High School football field. On the shoulders of my Mom, whom I watched, as the president of the Milford Jr. Women's Club, initiate the effort to get the lighted scoreboard for the field. And on their combined shoulders as they took an idea to reality in the creation of the Fighting Illini Pork Club, raising hundreds of thousands of dollars for U of I athletic and animal science scholarships." She added, "I stand on the shoulders of Dr. Jim Evans, my college advisor, who, after 22 years of retirement, comes to campus at least one day a week to counsel students and who helped me decide to do what I wanted, but was afraid to do – switch my major to broadcasting, when there were no women in agribusiness broadcasting at the time! I stand on the shoulders of my Uncle Gene Callahan, who, when his then 8-year-old grandson was asked by his teacher what his Grandpa did, Brad said, 'He helps people.'  Knowing as I spoke, Uncle Gene was being honored, posthumously, with the Distinguished Service Award from Southern Illinois University." She noted, "I knew I wouldn't be recognized if it weren't for the broad shoulders of my family – Dick, Brittney, and soon to be son-in-law, Zack, who are always there with me, for me, helping me, supporting me, and sometimes challenging me. And I thought of my Dad who always said, 'You come in to this world with nothing, and you leave with nothing. It's what you do in-between that matters.'  The University of Illinois has been my 'in-between.' Now, my shoulders are ready!"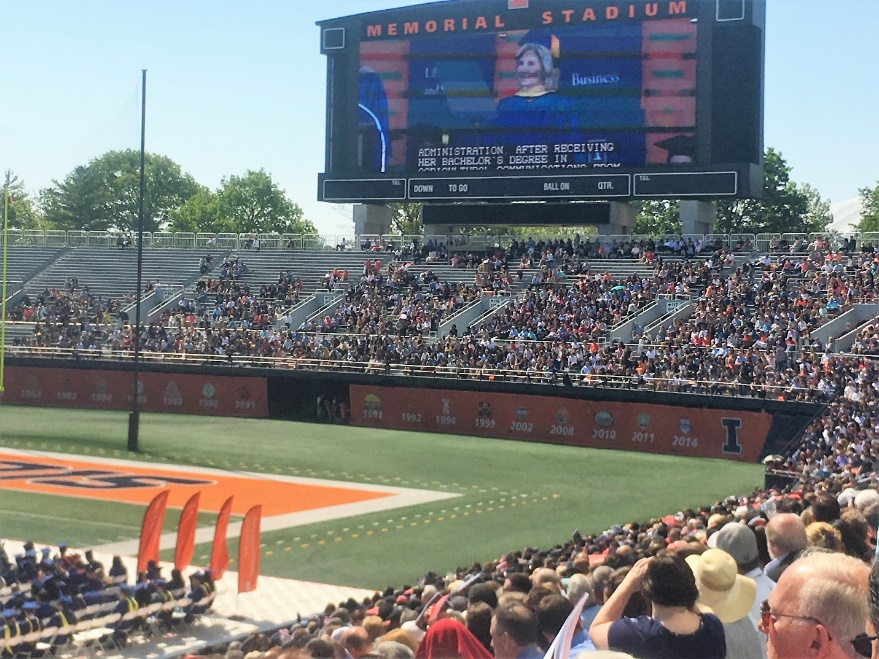 Jumbotron highlights Colleen Callahan Burns during U of I graduation ceremony.