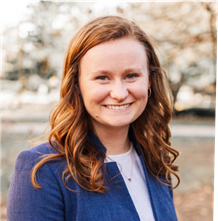 Lydia Johnson has the opportunity to work as the immersive learning intern for Agri-Pulse Communications in Washington, D.C. this spring semester.
Johnson will be producing content through Agri-Pulse's website, newsletter, podcasts, and TV show as they showcase news involving ag, food, and energy policy. Agri-Pulse covers issues from the West Coast to Washington, D.C.
 "We have a TV show called Agri-Pulse Newsmakers that's on YouTube and RFD-TV. I've gotten the chance to write some scripts for it and had my first appearance on the program last week. It's been a well-rounded experience with writing, speaking, broadcasting, and a wonderful team to work with," Johnson said.
While growing up in Bondurant, Iowa, Johnson spent time on her family's diversified livestock and crop farm. She was an active 4-H and FFA member and desired to continue her involvement in the agricultural industry.
Johnson's first experience in farm broadcasting came from an FFA opportunity with NAFB Broadcast Council Member Bob Quinn. That experience later turned into an internship at "The Big Show" on Newsradio1040 WHO with Quinn, which was made possible through an NAFB Foundation internship grant.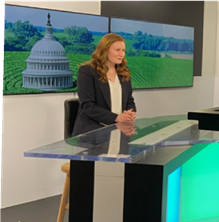 In 2020, Johnson began attending Iowa State University and remained involved in NAFB throughout her college career. She attended NAFB Convention and was awarded the 2022 John Deere Scholarship.
"Attending NAFB Convention was fun for me as a young professional to get to meet other farm broadcasters, people who get to do every day what I could envision myself doing as a career down the road," Johnson reflected.
Johnson currently is a junior double majoring in agricultural communications/ journalism/mass communications with a minor in environmental studies.
She is looking forward to pursuing a career in the areas of agricultural policy, broadcasting, and journalism.
"I've been very fortunate to have NAFB as part of my entire college experience," Johnson exclaimed.