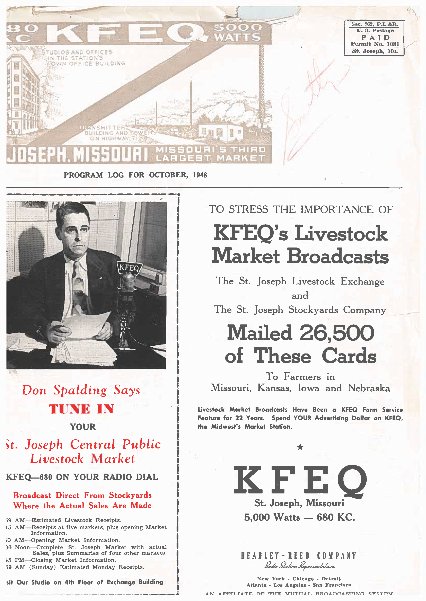 KFEQ went on air in 1923 from Oak, Nebraska, and made a name for itself over the past century by reporting agriculture news.
Brent Martin, news director of Eagle Radio, researched the history of KFEQ, and he said the founder never planned on going into broadcasting.
"John Scroggin had gone to school for engineering, but he got sick with the measles," Martin said. "He came back home and started playing around with the new technology of the time, which was radio."
After getting a license, Scroggin decided to operate out of the back of the bank his family owned at the time. Radio was still new, so there were not any guidelines for Scroggin to follow at first. The first commercial radio show aired in late 1920 to cover the Harding-Cox presidential race, and KFEQ first went on the air only three years later.
The early KFEQ format included two hours of information, including reports from the St. Joseph, Missouri, Grain Exchange.
"A lot of the listeners lived in rural areas, and a lot of them were farmers," Martin said. "So, they were very interested in the commodity report, and St. Joseph was one of the nearest large cities."
The evening program included live music since there was no technology to record at the time. Scroggin's wife played the piano for the live music segment, and they had other musicians come in to help jumpstart their careers in music.
"There was a wooden door on which all the musicians would carve their names," Martin said. "It's still in the county museum in Nebraska."
In 1926, the station moved to St. Joseph, where it has remained to this day.
"The St. Joseph Grain Exchange, St. Joseph Livestock Exchange, and the St. Joseph Booster Club approached John and asked him to move the radio station to St. Joseph," Martin said. "They paid the moving expenses and let John retain ownership of the station, and that's how KFEQ came to St. Joe."
Eventually, KFEQ evolved with the times and made changes to the programming format.
"As records came along, they didn't really need live entertainment anymore," Martin said. "It also transitioned to FM broadcasting when that medium began. They also added television to the mix, and KFEQ TV was born."
The station started offering an array of programming including music, news, talk shows, weather reports, and sports reports. Eagle Radio purchased KFEQ, but it continues to be a trusted source for agriculture news.
"This radio station serves northwest Missouri, southeast Nebraska, southwest Iowa, and northeast Kansas," Martin said. "Agriculture business just dominates this area. It's not packing plants like it used to be, but agriculture is still really important to St. Joe."
The future of the station is bright, and it definitely includes agriculture.
"We'll have to anticipate the public's needs, and we'll have to be creative," Martin said. "We'll have a place, and we'll always be here to broadcast farm news."