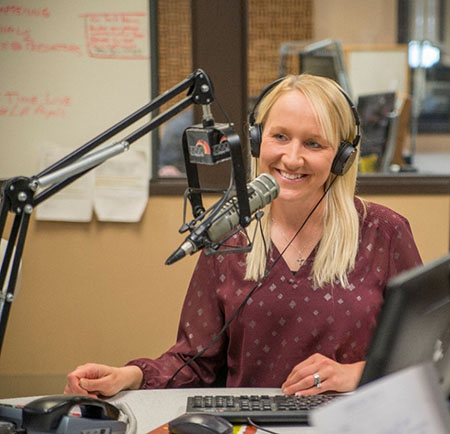 Sarah Heinrich (KFGO, Fargo, ND) grew up on a ranch south of Mandan, ND, raising purebred cattle and small grains. "As a small girl, I grew up on a farm where my uncle and longtime farm broadcaster, Al Gustin, would spend every afternoon helping and working alongside my dad, who is a full-time farmer to this day. I always thought Uncle Al had the best job. He could do ag news in the early morning hours and then be out raising cattle in the afternoon. My mom has been a 4-H leader for more than 40 years, so 4-H and FFA were a natural fit for me to be involved in during my entire school career." After attending Mandan High School, Sarah attended North Dakota State University, majoring in agriculture communications and public relations and minoring in animal science. In 2007, she started her broadcasting career at KXMB-TV (Bismarck, ND) where she spent 7 ½ years serving as the noon show anchor and farm director. "During my time at the station, I received the NAFB's highest reporting honor, the Oscar in Agriculture, three Associated Press Awards and an Eric Sevareid Award of Merit. In 2015, Sarah made the move from TV to radio, beginning her career as Farm and Ranch Director for KFGO-AM (Fargo, ND).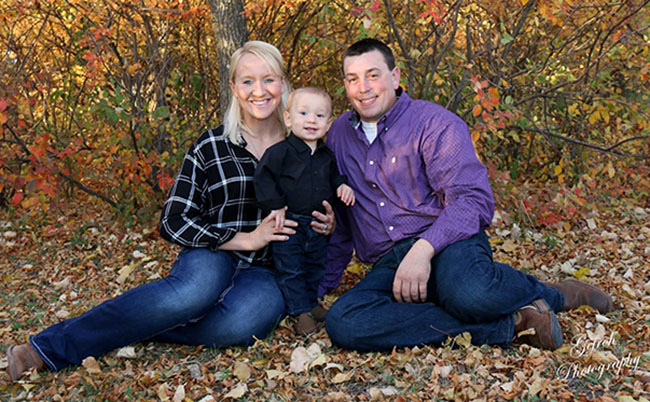 "My broadcasts are currently aired on 11 stations throughout North Dakota and South Dakota, including KFYR and KBMR in the Bismarck area. These farm reports can be heard from Minnesota to Montana and from Winnipeg, Canada, to Sioux City, IA." She emphasizes, "I guess you could say I'm living my childhood dream, reporting ag news in the morning and raising cows and crops in my afternoons and evenings. When I'm not on air, you'll typically find me in the corral." Sarah and her husband operate a farm and ranch
north of Medina, ND. They raise purebred cattle, hosting a production sale each year. They also raise small grains, row crops and operate a feedlot. "We have a little boy, Luke, who's nearly 2 years old.  He loves to help feed cows and ride in the tractor." Her passion lies in the cattle industry, being a member of the American Gelbvieh Association, North Dakota Gelbvieh Association and North Dakota Stockmen's Association. "I'm grateful for the opportunity to live out my childhood dream, I can't think of anything else I would rather do with my life than ag news and agriculture," Sarah said. Contact: Sarah Heinrich, KFGO 790 Farm & Ranch Director, sarah.heinrich@mwcradio.com.