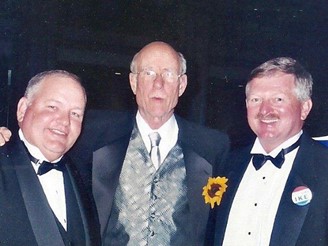 Ken McCauley received the 2023 Kansas Corn Impact Award at the Kansas Corn Symposium in January.
Recipients of this award exemplify the mission of Kansas Corn and contribute to the state's industry. McCauley, an honorary NAFB member, has served in leadership positions from the local to national level, including president of the National Corn Growers Association (NCGA).
"It was a shock to me. I thought I was just getting a plaque for 28 years of service. People I had admired received this award; it was amazing," McCauley chuckled.
Past Impact Award recipients include Kansas Senator Pat Roberts, the late Barry Flinchbaugh, and other past NCGA presidents.
During McCauley's tenure with NCGA, he ushered in a new age of biotechnology as a member of the Biotech Working Group committee.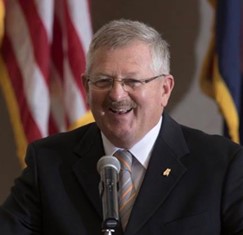 "Getting involved with biotechnology launched me into committee work and on my way to the board of directors," McCauley affirmed. "Being involved at this time gave me insight into the ground level of agriculture."
Along with the rapid changes in biotechnology, McCauley saw corn production triple in response to the demand for ethanol. This sparked his interest and pursuit of political lobbying, taking him all the way to the White House and the President of the United States to represen NCGA.
"We walked into the White House Christmas party, and they announced us as President and Mrs. McCauley of the NCGA," McCauley reflected. "We had solid facts on why [ethanol] will work, and it did. The incomes of farmers have gone straight up over the past 20 years."
McCauley said he is happy to have been a part of the work in the advancement of the corn industry.