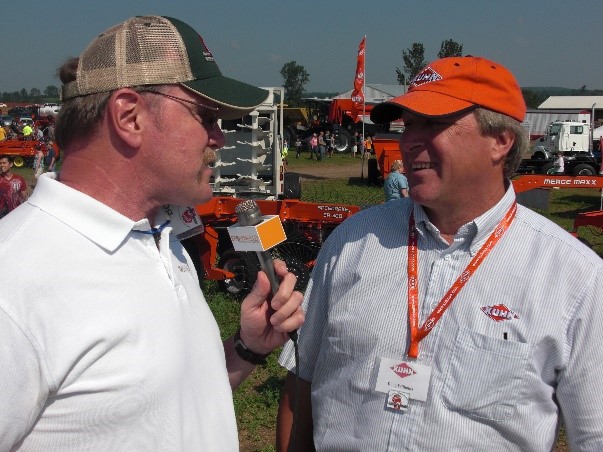 Bob Meyer started his career in farm broadcasting in the mid-1970s; and now, 50 years later, he is being inducted into the Wisconsin Broadcaster Hall of Fame.
After a three-year stint at WDLB, he left broadcasting to work as a feed mill manager for eight years. However, the manager of the radio station stayed in contact with Meyer, eventually convincing him to return to the world of broadcasting.
"In 1986, I returned to WDLB, and at the time they were starting a farm network, called Goetz Farm Radio Network," Meyer said.
Goetz Farm Radio Network started out with a one-hour program that was carried by regional stations, and it grew from there.
"We added coverage from some of the annual farm shows in Wisconsin then expanded to providing daily mid-day and afternoon reports."
Over the years, Meyer has been involved with the Wisconsin FFA Association, first as a state officer and later as a farm broadcaster.
"I started covering the State FFA Convention; and, at one point, they asked me to do the introductions of the state FFA officers as they ran on stage for each session," Meyer said. "I've been doing that now for close to 30 years."
In the past few years, he has introduced state officers whose parents he had introduced a generation ago. He has Honorary Chapter Degrees from several chapters, an Honorary State FFA Degree, and Honorary American FFA Degree.
In 2003, the Goetz network was purchased by Brownfield, and Meyer worked as a farm broadcaster and dairy reporter for the new owners until 2016, when he left radio to become an ag lender for a local bank.
Meyer is honored to be nominated to the Hall of Fame by his colleagues and friends from the radio industry.
"I am the ninth Goetz broadcaster to be inducted into the Wisconsin Broadcasters Hall of Fame, and this just shows how stellar the organization was," Meyer said. "To be included in this group is a high honor."
Meyer will be inducted into the Wisconsin Broadcasters Hall of Fame June 15. His advice for up-and-coming farm broadcasters is simply to get out there.
"Take the opportunity to interview people," Meyer said. "You'll find that people in agriculture are down-to-earth and are happy to tell their story. Just get involved in every aspect of the industry and get to know everyone you can."