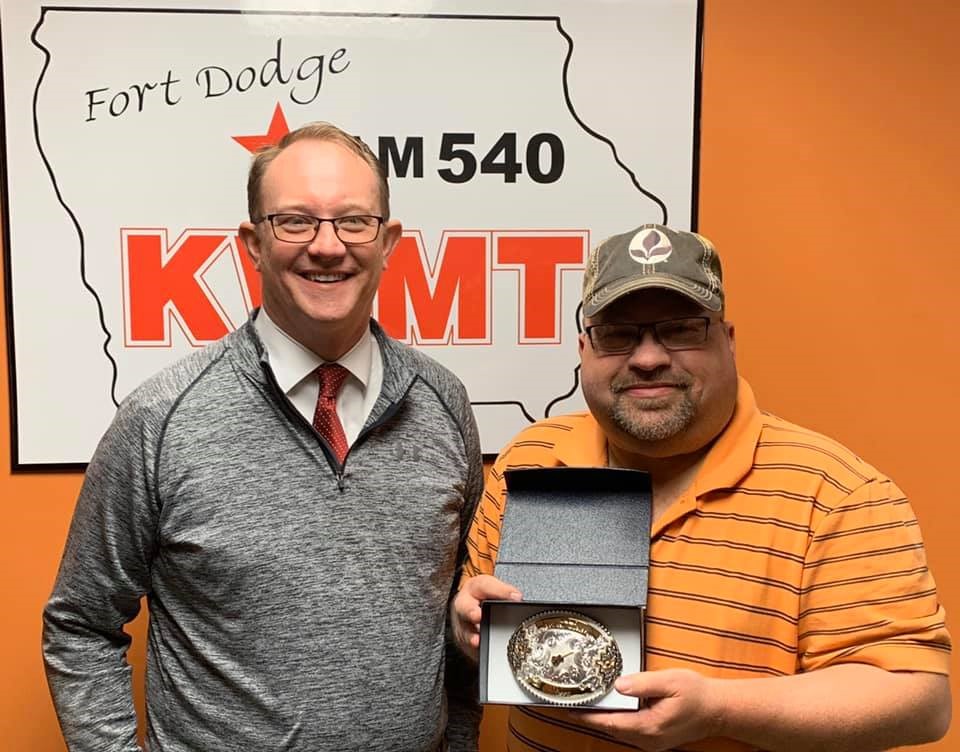 On March 3, Duane Murley marked his 35th year at AM 540 KWMT (Fort Dodge, Iowa).
Pictured at left is Alpha Media of Ft. Dodge Market Manager Jed Burns presenting Duane Murley with a custom-made belt buckle in honor of his 35 years of broadcast service.
"This is a perfect gift for an Iowa farm boy and farm broadcaster," Murley said.
Murley claims, however, that his radio career began five years before that when he was in seventh grade, growing up in Sac City, Iowa.
"Our high school had a radio station, KSAC, that had a low-wattage transmitter that you could hear throughout Sac City, and it was broadcast over our local cable access channel. I signed up for the radio broadcasting class, and I was hooked.
"Our radio booth overlooked the high-school auditorium. I would carry a box of 45 rpm records with me to school every day. (I still have and use that box today. It is now filled with bungie cords.) I would spend one to two hours a day in the radio booth. Everybody just knew that is where I would be, often writing my own passes to get out of study hall.
"I was hired by KWMT/KKEZ in February 1985 during my senior year in high school, and my first day on air was March 3. It was quite an honor to be working at KWMT and KKEZ and still be in high school. It wasn't long after I started working at KWMT that NAFB member and KWMT Farm Director Doug Cooper asked me to fill in on the market reports," Murley said.
"Through the years, I filled in for all who sat in the farm-director chair before taking over as farm director nearly seven years ago. Through ownership and management changes, I have been shuffled around a bit and had other jobs but never got fully out of radio.
"Radio has given me an opportunity to meet and work with some of the greatest people in country music and in the farm community. I can honestly say that, over the years, there has never been one day that I didn't want to go to work," Murley said.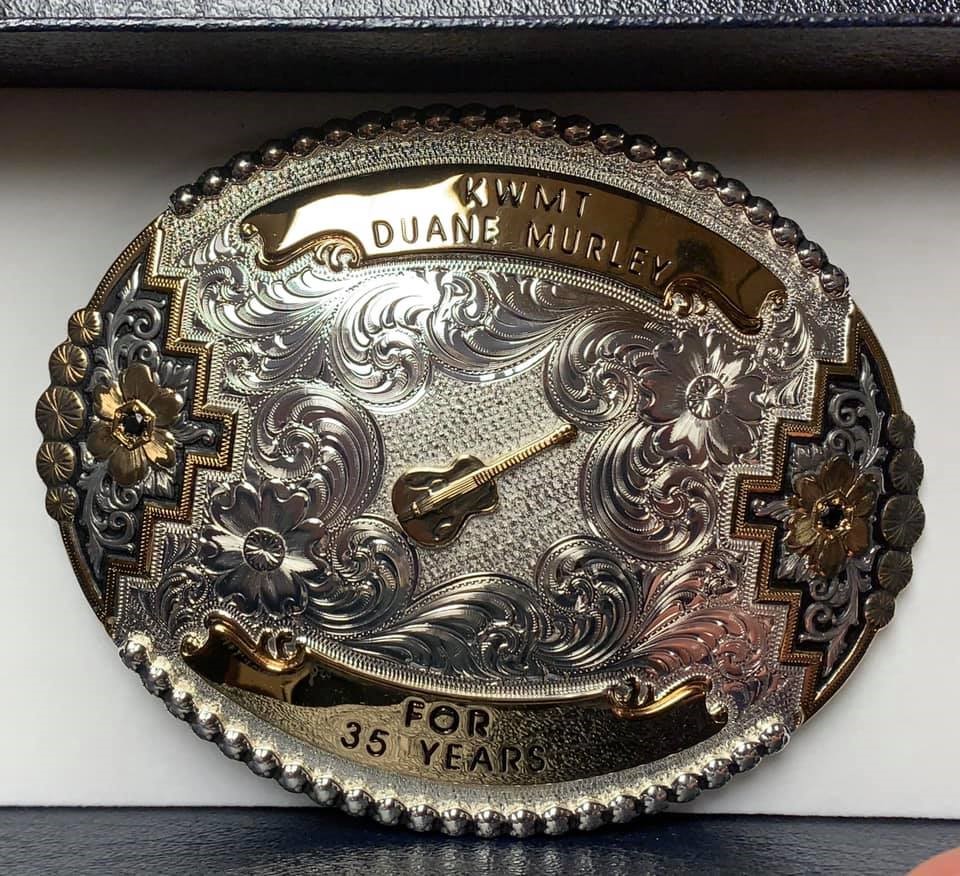 "For the past several years, I have helped a farm family near Rockwell City, Iowa, where I live with my wife, Darcy. The things I do on the Carver Farm allow me to really connect with my farm listeners while they are planting corn and soybeans, running tillage equipment, combining, feeding cattle, or whatever else needs to be done.
"One of the most rewarding promotions we do on KWMT is called Feed the Farmer. For eight weeks in the spring and eight weeks in the fall, we qualify listeners from around Iowa for a chance to win Feed the Farmer on Fridays. The winning listener wins a prime-rib dinner for themselves and 10 guests. Before COVID-19, I would spend the day at the winner's farm, along with sponsors, and enjoy the prime rib dinner with them. So far this year, I have remained in the studio doing reports over the phone," Murley said.
Duane and Darcy are the proud parents of daughter, Brandi, who is pursuing her master's degree at Oklahoma State University. As part of her master's program, Brandi recently returned from serving four years in the Peace Corps in Uganda, Africa. She worked in the northern regions of Uganda near South Sudan and The Congo.