Join Us for NAFB Foundation Fun!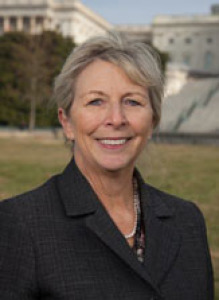 Are you looking for a great way to invest in the future of our industry and have a lot of fun at the same time? Join us in supporting the NAFB Foundation luncheon and auctions during the 2021 NAFB Convention (November 17-19 in Kansas City, Missouri). Your investments help us provide internships, scholarships, and professional-development opportunities.
Here are the key NAFB Foundation events next week:
Wednesday, 11/17
8 a.m.-4 p.m.: Check out the wide variety of silent auction items (Pershing). In addition, click on this link for a preview and your chance to start bidding in the online auction. Auction Chair Susan Littlefield and her crew have been busy!
11:30 a.m.-1:30 pm.: Join us for the NAFB Foundation Celebration Luncheon (Washington Park). You'll have a chance to hear from our top scholarship winners and learn more about various ways you can give back. Your future employees could be on stage! If you do not have a ticket for this event, stop by the registration table to purchase your ticket.
Thursday, 11/18
7 a.m.-1:30 p.m.: Anuvia will be donating $100 in the name of each broadcaster who does an interview during 2021 Trade Talk. This also is a great time to visit with many of the corporate sponsors and organizations who already support the Foundation. You can find that list here.
8 a.m.-3 p.m.: The silent auction continues (Pershing) so you'll have more opportunities to bid.
5:45-7:00 pm: Don't miss the NAFB Foundation Live Auction and President-Elect Reception. This is always a lively session as live bidders try to outdo each other! You'll have even more items to bid on this year. Plus, Emcee Greg Akagi and Auctioneer Lane Nordland will keep you entertained. Here is the list of the live auction items:
Jesse Allen acoustic concert: Jesse Allen will perform an acoustic concert for the highest bidder. Concert to be scheduled with winning bidder (subject to availability).
Weekend at Lake of the Ozarks Lake House: Enjoy a weekend of boating, floating, fun, and relaxation at Sara Wyant and Allan Johnson's home on Lake of the Ozarks any weekend in 2022 (except holidays).
John Deere Pedal Tractor (Rolly Framtrac Premium Pedal Tractor): Pedal powered vehicles provide a fun and exciting way to exercise while helping to develop fine motor skills. This JD tractor has a front lifting hood for extra play value.
2022 Indy 500 package: Bid on two tickets located in turn three (grandstand) for the 2022 Indianapolis 500 on May 29. This package includes a one-night hotel stay in Lafayette, Indiana, on race weekend; dinner or cookout with the HAT crew on Friday or Saturday night, and Saturday stops at Wildcat Creek Winery and a local Lafayette brewery.
Framed Terry Redlin Print ("Sundown" from Ron Claussen's personal collection, painted in 1983): This keepsake is full-sized, signed, and numbered 395/960 (limited edition).
Washington, D.C. Pub Crawl: Explore the haunts and hangouts of Washington, D.C. OR Old Town Alexandria with CropLife America CEO Chris Novak. This package includes food and drink for a party up to four and Advil (For more info, contact Chris Novak).
Alabama autographed guitar: Up for bid is a signed guitar from Country Artists Randy Owen & Teddy Gentry.
​Historic St. Joseph Stockyards arena chair: Own a piece of history from the last river livestock market in the United States with this livestock auction arena chair. The St. Joseph (Missouri) Stockyards closed in May 2021, and this is one of the seats from the auction arena. Only a few of these chairs are known to be in existence as the arena has been demolished, so this is a unique piece. Donated by Tom and Beth Brand.
Jump on the Big Board!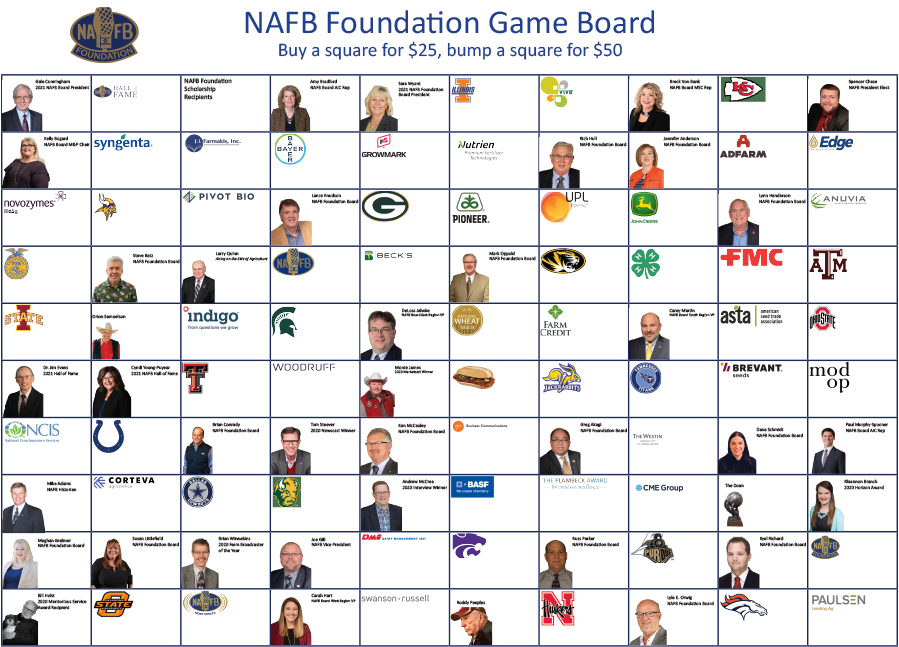 We've got a new way to donate during the NAFB Convention this year, thanks to our fearless Booster Club Leader Ken McCauley. The NAFB Foundation brings you a "big board" where you can donate $25 to capture a specific square of interest to you to support the Foundation. There are squares for NAFB and NAFB Foundation Board members, colleges & universities, sponsors, sports teams, past NAFB award recipients, and more. Want a square someone else has already purchased? You can "bump" them for a $50 donation. Everyone who buys squares will be entered into a drawing to win ten individual gift cards with values from $25 to $100.
I'm looking forward to seeing you next week! Best regards,
Sara Wyant
2021 NAFB Foundation President
Agri-Pulse Communications, Inc.
Washington, D.C.