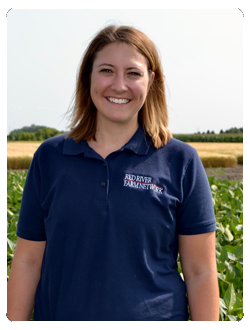 Carah Hart
Red River Farm Network
carah@rrfn.com
Phone (701) 795-1315
Cell (701) 317-8446
Years of industry experience: 10
Board/Volunteer Experience:
NAFB
2020-Present - West Region Vice President, NAFB Board of Directors
2020-Present - Program Coordinator, NAFB Mentor Program
2018, 2020 - NAFB Washington Watch Committee
2012-2015, 2017-2018 - NAFB Foundation Auction Committee
Non-NAFB
2020-Present - Secretary, Zion United Methodist Church Ad Council, Grand Forks, ND
2018 - Chair, Grand Forks Chamber Agribusiness Committee
2017 - Chair-Elect, Grand Forks Chamber Agribusiness Committee
Bio:  I'm Carah Hart, a farm broadcaster/reporter with the Red River Farm Network. I currently serve as the NAFB West Region Vice President and am a coordinator of the revamped NAFB Mentor Program.
I've been an NAFB member for 10 years. I got my start in farm broadcasting during high school at KMZU in Carrollton, Missouri, in 2007 as an intern. Following the internship, I obtained a Bachelor's in Agricultural Journalism from the University of Missouri. At the time, I also was an NAFB student member, later on receiving the 2011 NAFB Glenn Kummerow Scholarship.
After graduating college in 2012, I was a member of the Allied Industry Council, working in public relations for Osborn Barr and Cultivate Agency. In 2015, I joined the Red River Farm Network, reporting agriculture's business across the Dakotas and Minnesota. In 2018, I was awarded the NAFB Horizon Award.
As an NAFB member, it's been my priority to serve others and give back. In the last 1.5 years, we've revamped the NAFB Mentor Program. When elected NAFB Vice President, we'll continue to build on the program, exploring ways to keep new and existing members involved and engaged. We'll re-engage in Washington Watch. We'll also create and implement a more consistent strategic plan. I'll be a voice for you, seeking ways to bring additional value to your NAFB membership.
I look forward to serving and will be reaching out to you soon. In the meantime, please let me know if you have questions: carah@rrfn.com.