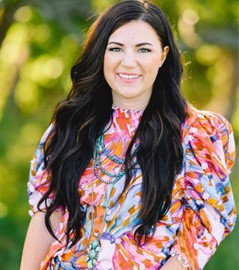 In September 2022, Certified Angus Beef (CAB) hired Lindsay Runft as its director of producer communications.
In this role, Runft oversees all the communications efforts for the supply chain on the live cattle side of the brand. She communicates with farmers, ranchers, backgrounders, and feed yards, all the way up to the packers about producing quality cattle that could qualify for the CAB brand.
Her entire career has been focused on communication in the livestock industry. She graduated from Kansas State University with a bachelor's degree, double majoring in agricultural communications and animal science.
Runft earned a master's degree in agricultural communications from Texas Tech University with studies focused on media market research and crisis communication.
She and her husband live on their seedstock cow-calf operation in Scandia, Kansas, where she works remotely for CAB.
"In my mind, it feels like I get the best of both worlds, working with CAB while also living on the ranch in Kansas," Runft stated.
Most of her time is spent working on public relations, media relations, and communications strategy across the board. She collaborates with many different media outlets, both traditional print and broadcast, and crosses over to some outreach digital properties, as well.
"Straight face-to-face outreach with producers is a heavy portion of my position," Runft explained.
She spends time in the marketplace meeting with producers and people in the allied industry. During the first week of February, Runft traveled with CAB to the National Cattlemen's Beef Association Convention in New Orleans to visit with producers and other people in the industry about the brand.
"My favorite part about talking to producers is just hearing about their operations and what they have going on at their ranches," Runft said. "As well as working with those producers to get information into their hands to find solutions for improving their cattle and operations so they can increase their acceptance rate into the brand. The company itself is just phenomenal in terms of being an industry leader through leadership and progressiveness."
Runft was first introduced to CAB when she served as an intern at the headquarters office in Wooster, Ohio.
"For me, it doesn't get a whole lot better from where I am today, and I'm fortunate the position was available and am able to work from cattle country," Runft said.