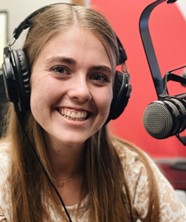 NAFB provides college students with opportunities to get involved and grow their skills, with Michelle Stangler, a junior at the University of Wisconsin-River Falls being one.
Majoring in journalism and agricultural marketing communications with an agricultural business minor, Stangler grew up on her family's dairy farm in Watertown, Wisconsin, where she always knew she wanted to tell the story of agriculture.
"I'm really happy about where I have gone with communications and broadcasting; you really meet a lot of cool people and that community is what I have appreciated the most," Stangler said.
Her experience with broadcasting started when she got involved with the university's on-campus radio station, WRFW-FM 88.7, during her freshman year in the fall of 2020.
While in college, Stangler has received three separate internship grants from NAFB.
In the summer of 2021, she interned with Pam Jahnke at the Midwest Farm Report in Madison, Wisconsin. During that experience, she had the opportunity to connect with a wide array of people involved in Wisconsin's agriculture.
"Everybody in Wisconsin knows Pam and the network, and I knew it was going to be an exciting experience. I was able to connect with the consumer target beyond farmers and ranchers," Stangler said.
From there, she interned at the National FFA Convention at the Broadcast News Desk with Tom Brand in October of both 2021 and 2022.
"Through the past two years at the National FFA Convention, I have enjoyed connecting with students and hearing about their areas of expertise, whether it's floriculture or forestry. It was really cool to connect with those winners because they are young, and they each have a story to tell," Stangler said.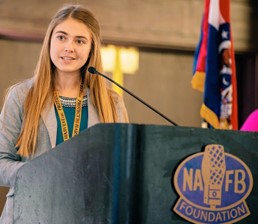 In the summer of 2022, Strangler interned with Brain Winnekins with WRDN Radio, a community-focused station, based in Durand, Wisconsin.
"I connected with a lot of people from county fairs. Brian has a unique set up at his county fair where I interviewed people, but I also did market reporting," Stangler explained.
That internship inspired her to take a commodities class to gain more knowledge about the industry.
"All of those experiences have helped me become a better student journalist and have really helped me in my career," Stangler said.
To her, the NAFB support system is one of a kind and is the community of which she chooses to remain a part.
"I have really appreciated everything the NAFB has done for me and many other students," Stangler exclaimed.
She recently started hosting a podcast called "Positivity in Ag" a daily four-minute conversation targeting young people to connect them more to agriculture.
Stangler also serves as the president of the National Agricultural Communicators of Tomorrow.