West Region Vice President Election Profile: Joe Gill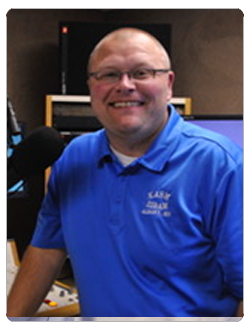 Joe Gill
KASM Radio
joe@mykasm.com
(320) 845-2184
Years of Experience:  Been in radio since 1999 and Farm Broadcaster since 2009. This will be my 5th year in NAFB.
Board Experience:  - Stearns County Dairy Advisory Board
- Co-President of the Albany FFA Alumni
- Member of the Stearns County Pioneer Club
- Parent volunteer with our kids' sports/activities
Bio:  I've been in radio since 1999. My first "real" part-time job was at KASM and I have never left. Along wiith being Farm Broadcaster since 2009, I also am the traffic director, sports announcer, webmaster and part-time salesperson. I grew up on my family's 3rd generation dairy farm, located just 2 miles down the road from the station. When not working, our family enjoys sports and family activities. My wife Denise and I live in Sartell, MN with our two busy kids Natalie (10) and Ben (8). The NAFB is only going to grow and get bigger and better. I want to be part of the team that helps the organization on that path. 2 years ago, I was involved in the Leadership Program in D.C.; one of the best professional experiences I have had. In my short career with the NAFB, it has allowed me to improve as a broadcaster in many ways.