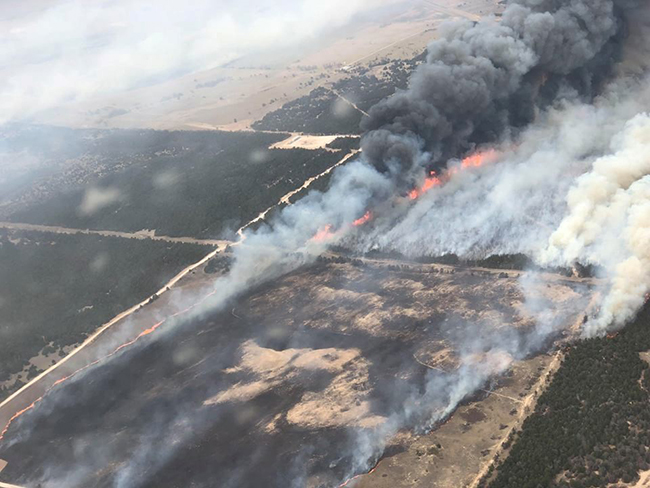 "During the past two years, the border between Oklahoma and Kansas has burned uncontrollably in the spring," reports Ron Hays (Radio Oklahoma Network, Oklahoma City, OK). Two years ago, it was the Anderson Creek fires where a few cattle were lost, but several thousand acres burned, and control was slow in coming.  Last year, a fire that started in Beaver County in the Oklahoma Panhandle spread eastward just south of the Kansas Line and then into Clark County, KS, where a huge percentage of the county was scorched.  "Last March, we did extensive coverage on our radio network, on our website and in our daily email. Between the Oklahoma Cattlemen's and Kansas Livestock Foundations, several farm broadcasters were key voices in helping get the word out and helping raise several million dollars for those ranchers." Then along came April 2018.  "The National Weather Service and the Oklahoma Forestry Services were talking about the most dangerous fire conditions they could describe and April 12 was predicted the be the worse of the worse. Multiple fires were reported that day and extended into April 13 and then into the weekend." Ron continued, "Two of the fires, the 34 Complex Fire and the Rhea Fire, quickly got out of hand and were true fire storms.  Our coverage included getting the word out on our radio stations in the area. A couple of our very best Radio Oklahoma Ag Network affiliates are in the footprint of those fires, and they were broadcasting wall-to-wall disaster reports taking in reports of fires that were breaking out and giving folks in the line of fire as much heads up as they could get."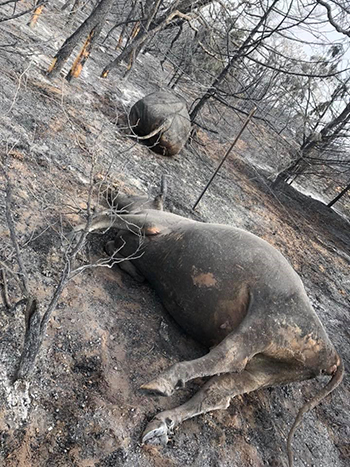 The difference in these fires of 2018 versus 2017 was that it was a more populated area compared to the fires that burned in Oklahoma and Kansas last March. "More houses, barns, outbuildings, farm equipment, stock tanks, fences and cattle were in harm's way.  Families got little notice and faced personal harm as they raced to cut fences to allow cattle to escape. Fires in some cases were moving at 50 miles per hour.  The rains of last summer had allowed a lot of grass to grow and forage left from an extremely dry winter amounted to a huge amount of dry fuel for fires to burn uncontrollably," Ron said.  "Add in hundreds of eastern red cedar trees that will explode when they catch on fire, and it made incredible videos and other visuals that came out of the destruction. By April 16, we knew we were talking several hundred thousand acres."  Ron and his team had already identified the most urgent needs and were sending the call out via radio, web and social media that hay and milk replacer was desperately needed.  One of the County Extension Educators took on the job of taking the calls of both those that needed hay for cattle that escaped and those who were willing to donate hay or to transport it. "I was asked to offer a play-by-play account of what was going on in northwest Oklahoma, and we talked with fellow farm broadcasters, individual stations, networks and two daily ag talk shows that reached a national farm audience.  We talked about the destruction. We talked about the needs for hay and longer term needs for fencing supplies and cash to help these farm families who faced hardship because of the fires that had taken out a land mass half the size of Rhode Island." Since the initial fires that broke out April 12, a little bit of rainfall has helped the small army of firefighters to reduce hundreds of hot spots down to none. 350,000 acres were burned along the way. "The next thing we were reporting was the first of what will be many producer meetings to allow folks to begin to get the information they need to tap into government and private resources that will help them rebuild their lives and their
farm or ranch operations. The country that burned was mostly ranch land and those ranchers are now disposing of cattle carcasses, doctoring animals that were in harm's way and survived, and making sure those livestock that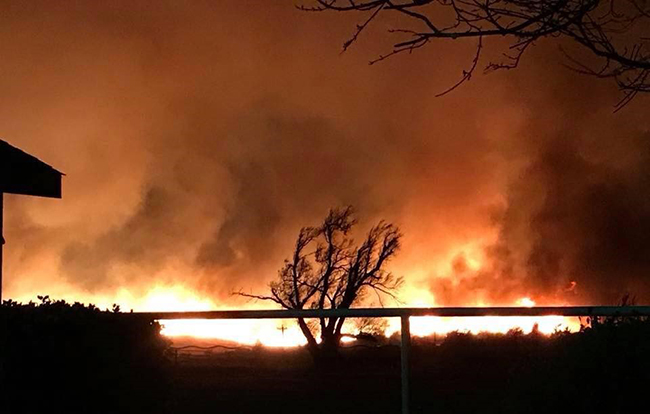 are alive are getting fed through the generosity of farmers from across the U.S. who have sent hay again to those hit by wildfire in Oklahoma." USDA's Bill Northey traveled to western
Oklahoma to get a first-hand view of the fire's path and was escorted around by former House Ag Committee Chair Frank Lucas.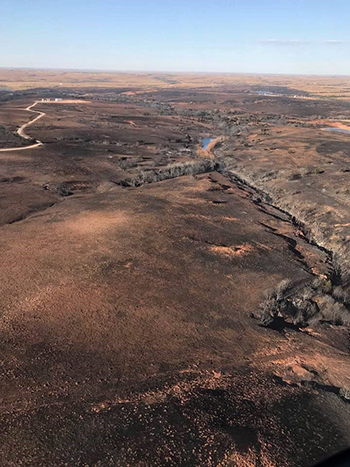 Ron's broadcast associate Carson Horn had a chance to report on that visit from DC. About reporting on the wildfires, Ron added, "This story has been a non-stop part of our news cycle for two weeks, and it's likely that stories that are tied to the wildfires will be in our mix of daily reports for farmers and ranchers in our country for some time to come. For our broadcast colleagues who have helped get the word out about helping fellow ag producers, we say thank you."  He asks broadcasters to mention the Oklahoma Cattlemen's website www.okcattlemen.org on air or in emails or web stories.
"Any help you can give to these ranch families in need will be much appreciated," Ron said.