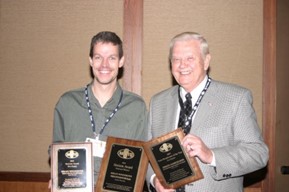 Community responsibility. That is the theme that has guided Brian Winnekins through his 30+ year-long career as a farm broadcaster.
What began as an enjoyable hobby and side-job in college grew into a successful and rewarding career for Winnekins as he has served in his many roles at various Wisconsin radio networks.
He is currently the owner of WRDN in Durand, Wisconsin, where he also is the farm broadcaster. Winnekins bought WRDN in 2011 and brought it back on the air.
"I had to start from scratch in 2012. In the coming years, I hope to keep everything going and make progress so I don't have to do that again," Winnekins said.
He said he views his role as a farm broadcaster as a responsibility, not a job, and he wants to keep that at the forefront.
"If you're doing what your community needs, you'll succeed," Winnekins said.
Throughout his career, Winnekins has received several honors and recognitions, most recently in 2020, when he was named the NAFB Farm Broadcaster of the Year.
Winnekins said his career has been partially guided by his mentor, Orion Samuelson. Years ago, the two worked together on a project to showcase 4-H and FFA students at a small, county-fair livestock show. Winnekins said seeing how Samuelson stepped out of the spotlight and let the students be the main subject was inspiring. This is just one example of how Winnekins lets his community, and the future of agriculture, shine.
When Samuelson was recognized in 2004 as the Farm Broadcaster of the Year, Winnekins was named the NAFB Horizon Award winner. He said that recognition alongside his mentor was one of the proudest moments of his career.
"I still have the picture of the two of us sitting on my desk," Winnekins said.
Through his many accomplishments, Winnekins has never strayed from his goal of putting his community first. His goal when purchasing WRDN was to serve the farmers and agriculturalists of Durand, and it's safe to say he has done just that.